hello peeps! actually, i have NOTHING to blog about but i just want to update my boring blog so here goes a random entry :)
just now, i went to escapade for dinner with my mummy and my little brother. after probably months of persuasion to ask her to eat at escapade, she finally agreed! but then..she kind of break her promise :p
mum
: where is the malay restaurant?
me
: *shocked* i thought we are going to escapade? why did you lie?
mum
: i dont want! i have sore throat!
me
:BUT YOU PROMISED! T_T HOW COULD YOU LIE TO ME?
mum
: no, no i dont want, where is the malay one?
me
: fine fine go there then but i won't eat anything!
*then the car stops in front of kimchi restaurant which is obviously not the location of the malay restaurant*
my brother:
i thought we are going to malay restaurant?
mum:
we're going to another malay restaurant~
HAHA! she sure did fooled me on that one!
the reason why my mum finally agreed to come is because i urged her to try the "Tomyam Udon" which taste deliciously wicked!
but the one at kiulap SUCKED! the soup was cold by the time it reached my table and the noodles had this dough and sour icky taste! i hated it so much that i left a small portion of it. i always eat finish my udon but that udon was so terrible that i can't bear to take another bite!
my love for the magnificent tomyam udon will now slowly fade away..
oOoOOo~did i mention their toilet was oh-so-modern? *sakai*
but hey, i'm a sucker for toilets that look pretty. their toilet has a built-in air conditioner :O and a radio too! :O the last time i saw those kind of toilets was at pizza hut!
i know its ridiculously stupid to have a radio built inside a toilet but think of it this way, its a form of entertainment!
who knows right, you may have a hard time trying to release that big bomb out of you-know-what then, suddenly, the DJ plays a rock song and there you go, you can rock to the music while you SHIT! :)
or maybe melodic music for those that pee :)
its a good thing because music hides out noises that you do not want to hear so you won't end up laughing. for example:
1) peeing sounds
2) when your poo comes out of your you-know-what, IT SURE WILL HAVE A *PLOP* sound right? dont tell me yours doesnt unless you stick your you-know-what lower into the toilet bowl
hmmm, i'm getting seriously sickening. i hope you guys havent eat your dinner yet. :) who am i kidding? its 9! you guys probably have. *cackles*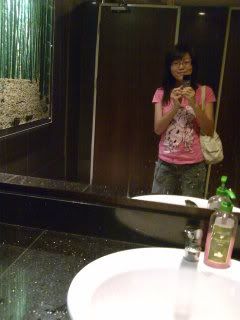 a small view of the pretty toilet *v*
okay, till here then! bye!
p/s:
its hard to take nice pictures with the new fringe :( i either end up too plastic looking or act-cute looking which IS SO DISGUSTING