End of year exams are officially over today! :D
yeayy! NOT. i'm supposed to be ridiculously happy but i'm not because i am gonna be sitting for my piano exam next Wednesday! eeek!
i am really worried about playing the songs wrongly as my hands ALWAYS stammer before i start playing. :/ and this time, the invigilator is a WOMAN! she looks creepy too! people have been telling me that its better to have a man then a woman(this phrase sounds wrong) because they aren't that strict.
*gulps*
now, i wish i was a guy. :(
honestly, i can't stop thinking about my piano exams, i'm worried about everything! i hate the fact that i can't get A MERIT for my piano exams! i can only get a bloody pass. and the passing mark is 66 and i got like, 67?
see how terrible i am in piano? its just not my passion, but i have learnt it for so long and i feel bad to just let it go like that.
i guess i will have to just try harder...i really hope that i can get a merit this year, if not, just at least a 70 would be enough for me, i guess? :S
anyway, i went and cut my hair today, as stated in my last blog post! :D hehehe, it feels really weird having this current fringe but i guess i will just have to get used to it.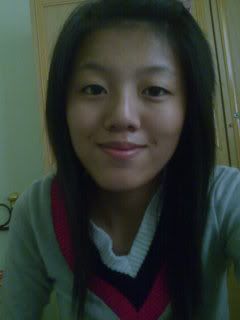 without fringe and...
......
voila! with fringe, the so-called cacat-ed bangs :p
hahaha, i know it looks a little crooky but its just cause the saloon lady snipped it that way. she wants me to grow it thicker and maintain my also-so-called crooked parting. so, now , i'm here sitting, having my bangs clipped to the middle.
ok, a better one,
HEHEHEE! CAN I JUST TYPE THIS OUT?
I HAVE BANGS! OH YEH! *does the bootie shaking*
at first, the lady convinced me that my hair wasn't suitable for blunt bangs as i had a side parting but after hearing the loud whispers of Michee and Sabena complaining that i paid $12 just to have back my usual fringe, she quickly changed her mind and figure out a way to make it look "bang-y"
HAHAH! KUDOS to Michee and Sabena and not forgetting, Mar-mar for convincing her!
i never knew
square
faced girls can have bangs! yippeee! my usual hairstylist will hate me for this! HAHA!
now with my new fringe i can,
1) act and pose cute cute *squeals* MUAHAHAHAAHAHA!
2) dont need to pluck my eyebrows that often
3) i will be cute(R)! HAHAHA JKJK!
but,
1) i hate it when there are gaps between my fringe
2) its disturbing to have it poking my eyebrows
3) can't have this kind of fringe in school, so i have to pin it up :( but the good thing is, i can have the best of both worlds with this fringe.
i can either put it to the side, pin it up or let it the way it is! cool ey? oops, i mean best of triple worlds! ahhh...lame much.
say hello to BENA!
this picture of you is really nice :)
beautiful dreamer~
one thing to note tho, this pic of mich looks like her head was chopped off. reminds me of Anne Boleyn as she was beheaded...hmmmm *dont kill me pls*
speaking of Anne Boleyn....i LOVE Natalie Portman! (L)
she's not only gorgeous but also stylish!
lovely colour combo.
i love this one on her! she looks fantastic!
this one is really so cool! i love that she paired it with short pants and HIGH HEELS! a lot of other celebs/models like to pair theirs with mens' shoes which is a little too man-ish for my liking.
eeeeeeeeeeeeee! so HOT!
Natalie Portman can be cute, pretty and hot at the same time! hehehehee! not to forget, she's smart and thinks GREEN! she's a vegan.
love it when she shaved her head bald. it just shows off her natural beauty and exquisite features. :)