As promised, i shall blog about the dinner i had in a korea restaurant :D
AND YES MAR! you are SO right, it is "Kimchi" and i'm sure you like it too!
i'm starting to like korean food a lot more than Japanese now, heheh, no idea why, but it's really tasty and filling and ALSO HEALTHY? O:)
BUT nothing can beat the unbeatable tomyam udon in escapade sushi! its the BOMB and i suggest all of you should try it. i have introduce this to my friends HAHAAHAHA and most of them couldn't take the heat!
especially...
michee:
*chokes halfway and drink water and choke again after a few seconds*
HAHAHAHA :p
and i'm gonna use photobucket from now on until blogger fixes its PHOTO problem. i noticed the photos of some other blogs and they don't look as pixelated as mine. i have no idea why. i even asked in the blogger forum but their answers didn't EVEN help.
guess photobucket will be a temporary fix :)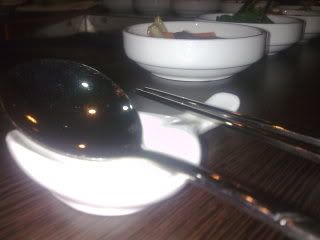 SEEE! they always serve lots of appetizers for you and did i mention you can refill it? ;)
GIMBAP! I love korean sushi! sooooooooo lightweight and yummy! but Pines's one is better than Kimchi's.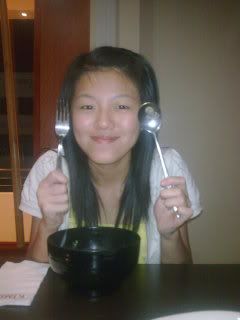 to eat korean food, you need THE RIGHT UTENSILS! :D
I LOVE THE BIG-ASSED SPOON!
the birthday boy :) and my daddy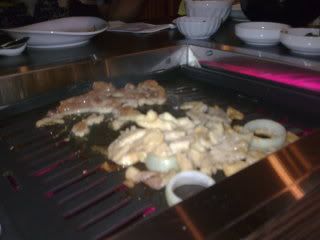 OOOOOOOOOOOOOO! grilled teriyaki IS AWESSSSSSSSSSSSSSOMMMMMMMMMMMME! i swear they taste sooooooooooo good that never again will i think of becoming vegetarian. SORRY :)
HAHAHAHAHAA O YES, this reminds me. i remembered i said i wanted to be vegetarian because i feel so sorry for the animals but look at the delicious food....
all the tasty food COMES FROM ANIMALS!!!!!!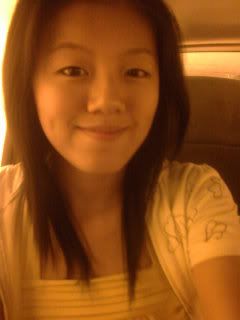 anyway, i went miri yesterday night(was a last minute preparation) and came back in the afternoon. as usual, my dad would stop at Jerudong to buy some fish so me and my brother will hangout at the beach.
blowing bubbles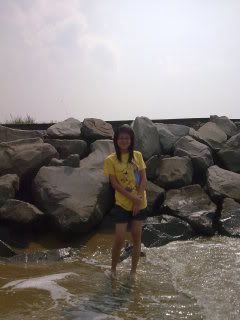 i love jerudong beach :)
YEAY! my pictures doesnt look pixelated anymore! much nicer aint it?
BBBTTTWWWWWWW, my sibu grandmother is here now which means my cousin, Emily is probably gonna sleepover at my house! WOOOOHOOO!
OH AND canadian people are SO OPEN. well, mostly the western people ARE open.
i was chatting with my cousin from canada yesterday and woooooooahhh
he's only form 2 btw.
me:
so do you have any gf yet?
cousin:
nope, but i went to a dance with this girl but she was...hmmm..how you say..i dont know..just very...
me:
clingy?
cousin
: yeah she always wants me to hug her
me
: oooooooo...
cousin
: and maybe i just missed flirting
me
: wow, you canadians are open
cousin:
dont you flirt?
HAHAHAHAHAHAAH I DONT THINK I EVEN flirted with any guy before and doing that to my guy friends? EW. such a revolting thought. :p
not saying they are EW, just meaning it's weird to do that to your guy friends.
but i flirted with lots of girls! ;) HAHAHAHAAHAH! meithing is one of them, hoh?