HELLO! :D i went to empire to have fun with my friends on 23/9/09 which is on Wednesday and stayed overnight! i still remembered clearly which room i stayed in! Room 6301!
most of the pictures here are from
Michee's facebook
Mark's facebook
or you can go see the rest at
Shiyin's facebook
My room buddies are:
1) Michee
2) Jaywen
3) Sabena
4) Vincent
5) Andric
6) Sandy
7) Lennard
8) Mark
9) Bruce
10) Calvin
11) Wilson (who went home later)
12) Pearl
13) me
i still cannot forget how my dad offered to carry Michee's and Jaywen's bags off the car! He usually doesn't do that to my brother's friends! Maybe cos he likes my friends better than my brother's! HAHA! most of my brother's friends are freaking rude anyway!
we had a great time chit-chatting, eating cup noodles, watching tv, walking around empire in the middle of the night, riding the buggy, smiling at the doorman of "Waterfall" (hey, he's chubby, short and cute!), swimming, checking out bikini babes and a woman with a bush of armpit hair, canoeing, lying on the bouncer, taking pictures(DUH!), heart-to-heart talk, playing games and SO MUCH MORE!
i could just continue on but i dont think most of you wanna read it so here are the pictures!
credits to Michee's and Mark's DSLR! :)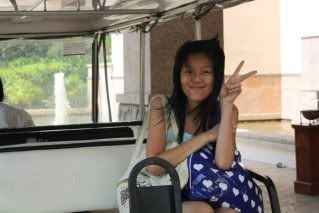 the buggy and I!

PS: i still remember the driver of the last buggy we sat on, michee! remember? we made her seats wet!




i look like Paris Hilton here!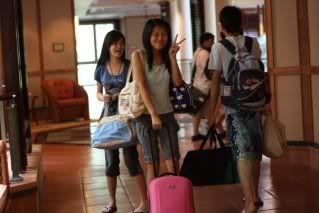 poor vincent have to carry bags for people! now i know what job suits you the best! BAGMAN!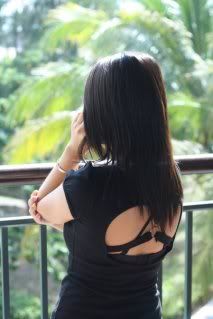 woooooooooots! sexy sexy




a small view of our room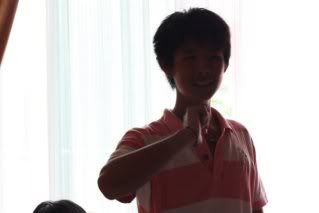 such a lady-like pose for a tough chinese guy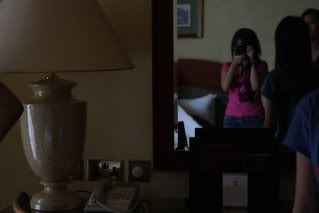 another view of our room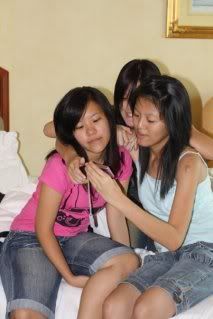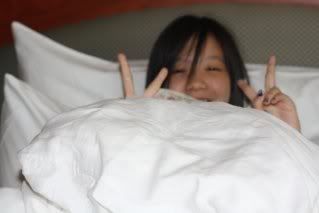 the very flirtatious but cute Sandy!




look we are trespassing the other room! luckily, noone lives there!




you taiwan drama series addict should be acquainted with this pose! every guy in it just love striking this pose!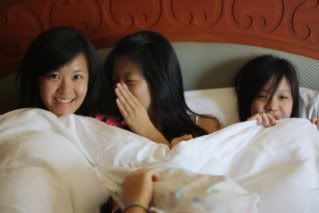 one of my fav pictures in the album! gossip girl!




i like this picture too because i look very happy here! no fake smiles! =)




check out michee! rawwwr!




naiping leaving our room!

i can imagine this as a song~

"I am gonna open this lock slowly~
slowly~
slowly~
and leave this roooooooom!"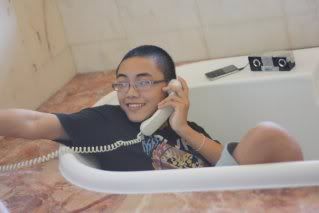 "ello? room service?"

OH NO! i remembered something again!

"ELLO!" remember this, michee? The empire bouncer? both of us worrying someone will invade our privacy? especially the *Aherm*




sabe looks like a beautiful dreamer here~




me and mark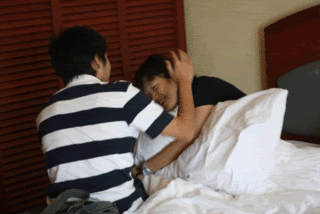 "bu yao lah! paiseh! so many people here!"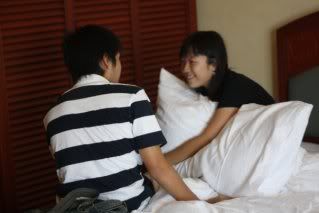 "they wouldn't know!"




CUT! great acting, guys!

then at night...after we're done swimming and watching the sunset, we cuddled together on the bed and eat our dinner!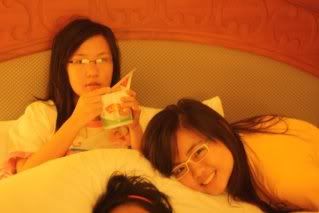 pop mee for dinner! i had tomyam! :D i miss it now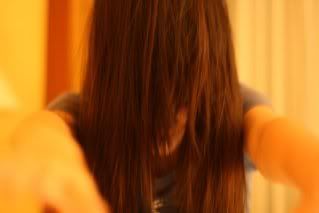 eee, who is this? gui po! (ghost woman)




everyone, including hotties will have this signature jaw dropping look when watching tv!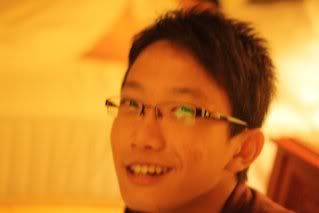 andric's leisure pose when watching tv




calvin joined us later at night!




michee looks adorable here :)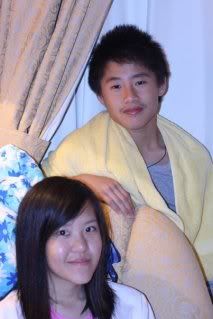 family *clears throat* potrait!




this nasty Bruce kept on singing at night! somemore at the beach again! all the ghosts will love following him! not to forget, he's in the same room with us again!

HAHA! but he is safe. proves that, singing at night is OK.




two lovely ghooooosts!




Lennard's a ghost! *shrieks*




three nerds and a beautiful lady.




titanic~




please dont think wrong just like michee >:(




stupid vincent kept on saying this while we are posing!

vincent: you see, that star i name it after you, Lilian!

WTF! HAHAHA! but it was funny!




our blue avatar-ish feet!

CLOSE UP SHOTS!




sooooooooooooooooooooooooooooo gorgeous! i take one ah! *prasan*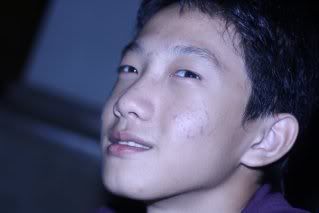 vincent without his specs!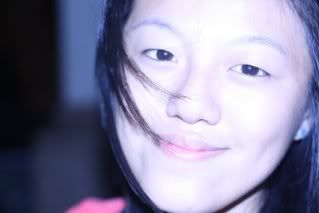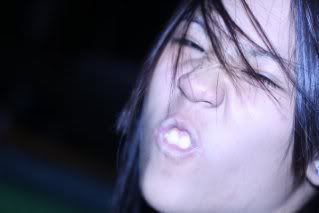 puh-lease, i can do this pose THE BEST cause i have the essential bunny teeth!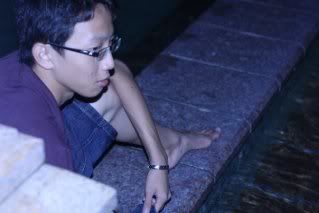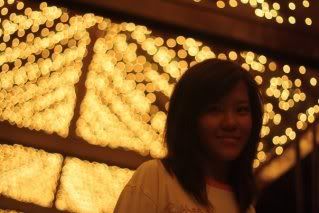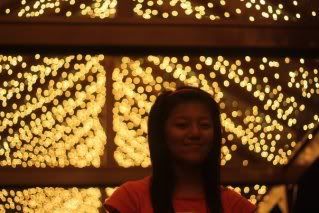 my very flattering picture :D




we took a lot of pictures with the mirror!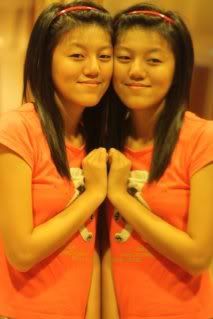 my twin sis




kissing a girl is hot!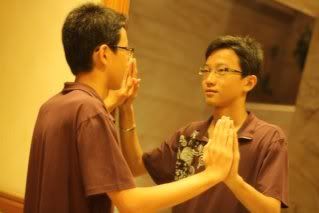 vincent dancing with vincent!




i like this picture! hehehe! i look like a sweet ballerina girl! HAHAA! *prasan*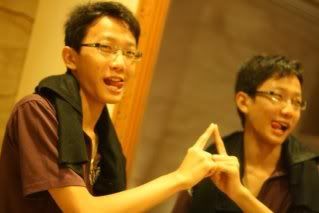 the male species, please dont act-cute like this. its a turn-off! vincent is an example of it!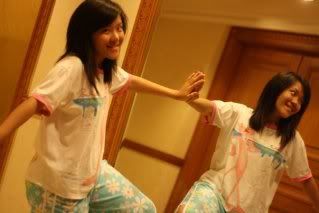 aerobics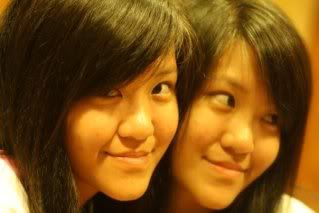 its so easy to take a nice shot of michee, especially up close!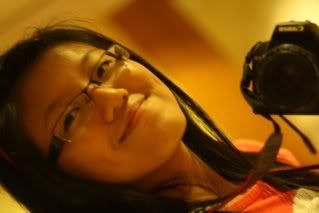 me and the dslr




vincent getting arousing as he sees michee entering the girls' toilet!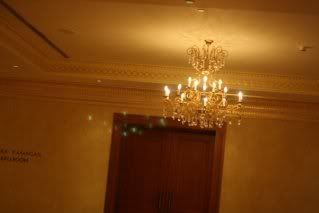 beautiful lightning effect!




group photo!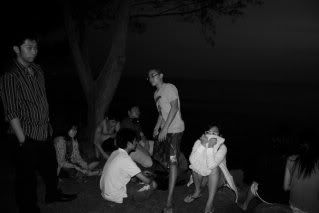 woke up early in the morning to watch the sunrise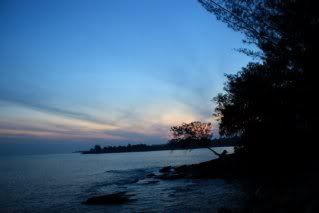 pretty~
that's all! there are still lots that happened but i couldn't remember them! HAHAA! all i remember is me sprouting lots of new born pimples and having a huge mosquito bite under my chin :(
let's do this all over again, guys! :D