I AM FINALLY BACK IN THE ONLINE WORLD! :D bliss!
for the past few days, i have endured not going online because my dad brought my cuckoo broadband to incomn to be fixed which turned out NOT-YET-FIXED. but it wasn't that miserable because i get to use my mum's touch screen phone to tweet, visit my friends' blogs and facebook. :)
so how did i spend the holidays?
lazing around at HOME 24/7. i have no TV(because my grandpa is like a TV-addict and since i am a filial grandaughter, i let him watch) and INTERNET(now i have)
luckily, i have my darling sims 3 by my side.
anyway, i have loads of things in my mind to blog about and i shall start slowly okay? :) that way, i get to update my blog everyday!
as mentioned in my previous post, i went bowling for the first time with Maria, Michee and Jaywen! it was a great experience :D
i am NOW a skilled spare player! NUH-UH, not those "spare" bench players you see on tv! read on to know why!
credits to michee's gorgeous DSLR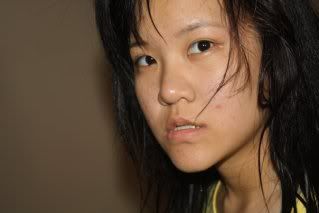 RAWWWRR! hot chick
i took this, nice or not my photography skill? :p
tying the laces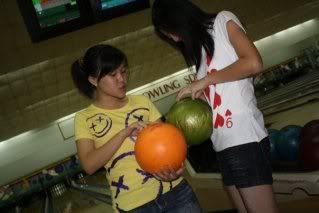 mich teaching me how to place the correct fingers in the holes :p i'm an amateur okay?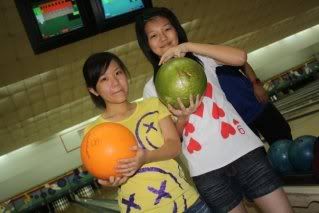 WE ARE READY! :D or not so judging by yellow tee girl's expression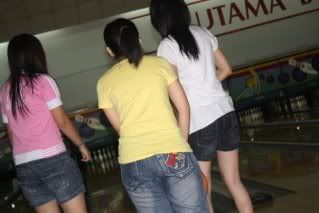 anticipating to see if we get to roll down the pins
OKAY, i have to admit that i sucked REAL BAD in the beginning. maybe its because of the guy and his cheeky show-off friend sitting beside us? well, after he left, we started to play really well. (as quoted by Maria)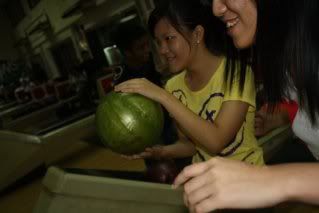 michee in action and i'm giving her support by flashing my bunnies!
"AIYAH! can goal or not?"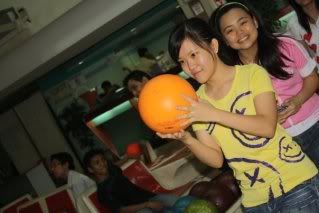 "nevermind, try and try again" *psst, you can see the guy beside us now*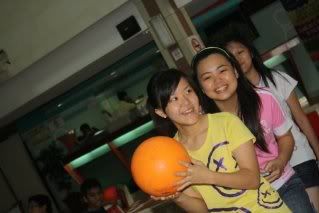 michee said i spoiled this picture *sobs*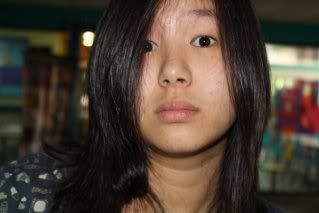 *what did i do?*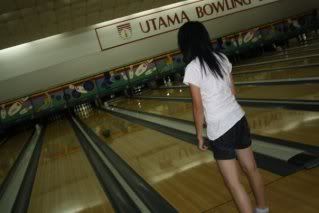 judging by the picture, you can see that i failed AGAIN. (it was embarassing)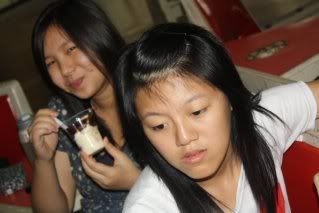 heheh, cute maria savouring her choco icecream! oh yeh, i forgot to bring my mascara that time and that made my eyes felt so naked! without mascara, my lashes are virgin!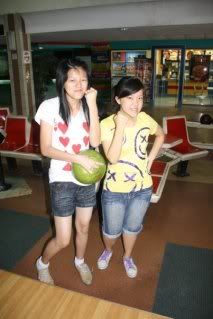 "LET'S DO THIS THING!" resemble someone? yes, its Linguini from Ratatouille except, i'm Linguini and Michee is Remy!
giving my everything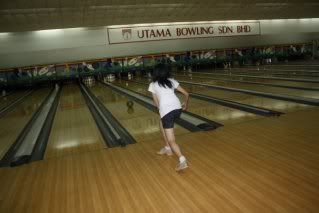 i guess it worked :P
my awesome friends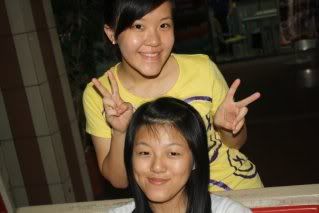 my gosh, look at my TANNED face!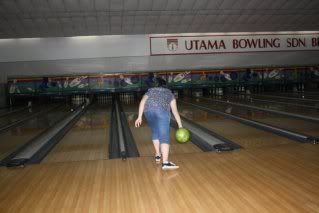 someone decided to try her luck!
OKAY, WANT to know why i'm such a skilled spare player?
here's why: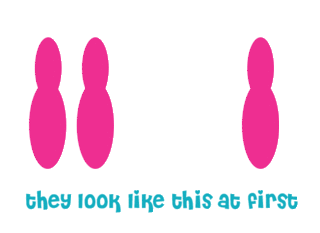 tell me, can a beginner do this? CAN YOU DO THIS after playing bowling for only less than an hour? well, obviously you CAN'T. so this proves that i am awesome in knocking down the spare pins!
OH! michee also did the same thing! what can we say? both of us are skilled spare players yo *winks*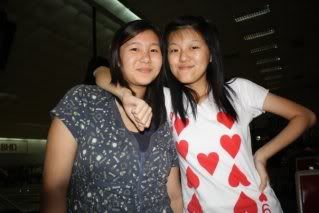 i will transfer all the hearts from my tee to Maria :p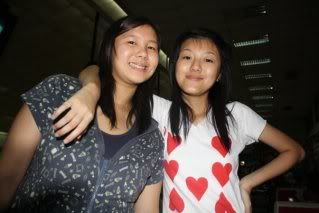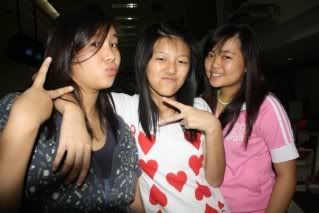 Mar seems to hate the bunny teeth pose :'(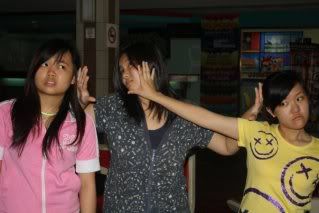 such bitchy ladies
"i confirm can score this time"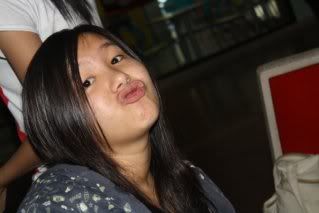 her signature pose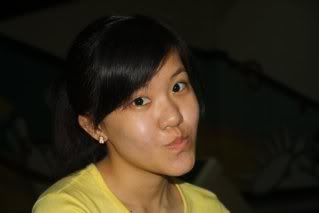 somehow, mich looks elegant here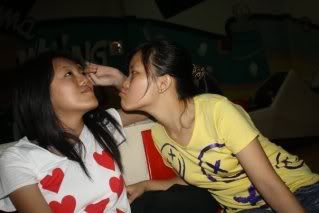 she's trying to win me over but failed because i have someone else in my heart instead *dramatic much*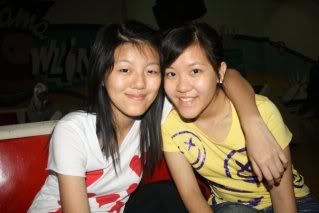 but we can still be friends :D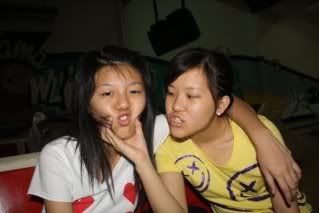 seems like she wants something more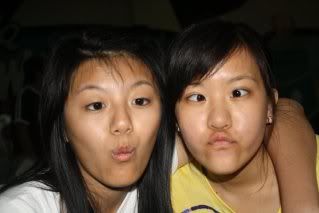 she wants us to be the cross-eyed buddies!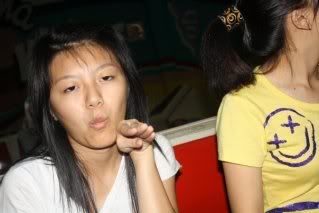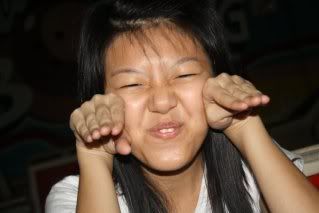 do i look like a bunny now? 0:3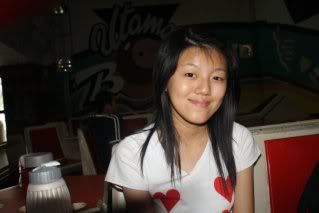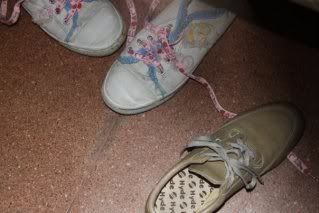 mich showing off her sexyness
compared to michee, i look SOOOOOOOOOO DARK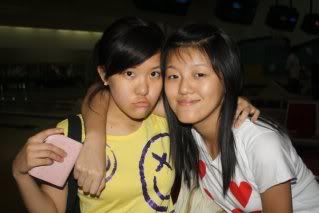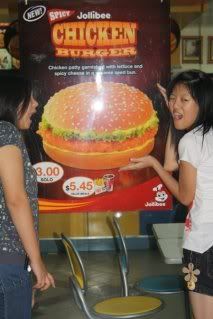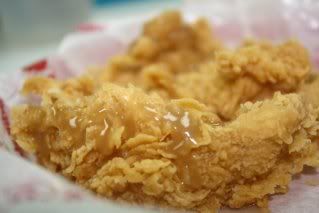 awesome picture :D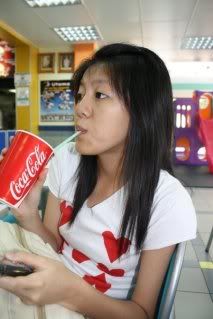 do you want to know how to get the guy? find her!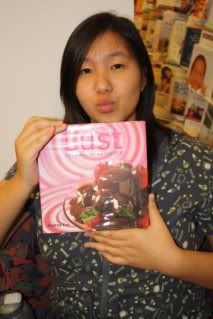 baby, its Lust. *in a seductive voice*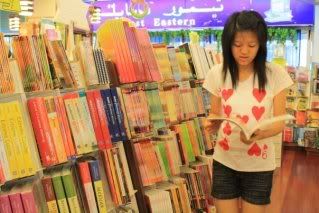 i look like a bookworm here :D hahaha!
sadly, you cant see the quality of the pictures clearly here :( tsk
everyone have blogged about Vincent, BW and Bruce's party held in RBRC except for me! anyway, i will just include a few words then!
never go swimming with me because:
1) i will kick your back and you will sink under the water
2) i will choke you with my strong arms
3) i will pull you down when you piggy-back me
i think i have killed those people who piggyback me but even if they knew they were gonna get killed, they are still willing to help me. *touched*
till here then!